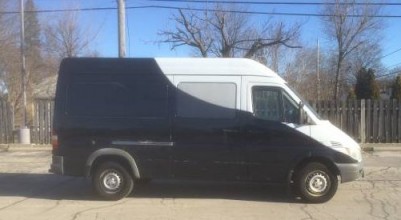 There's a decent priced 2006 Dodge Sprinter listed on the Milwaukee Craigslist [Link to Ad]. The custom paint is probably not everyone's favorite but at least it's not too colorful. The fact that the van has a custom paint job and being from Wisconsin I would take a closer look for rust issues. Other than that the Sprinter looks good on the (tiny) pictures. No damage visible and the cargo area actually looks pretty nice.
The van has just 125k miles and the seller even added a picture of the original window sticker: the sales price was over $35k in 2006! Unfortunately, the picture is too small to check the details on that window sticker. But I think I can read power options on there: power windows & mirrors!
The pictures also don't unveil the window situation in the back – it looks like that there's at least a window in the sliding door (although not clear). Not sure about windows in the rear door or the other side.