Update (4/7): the original listing ended today without a sale and the seller relisted the Sprinter with a lower price of $8000 – that's $1500 less than the original asking price. Sounds like a good deal to me.
Just listed today: A white 2005 Dodge Sprinter 3500 with the 170 inch wheelbase [eBay Listing

]. The van looks good from the outside, no obvious damage.
The seller added only a few pictures from the outside of the van, the odometer (197,247 miles) and a shot of the engine. Sometimes I'm surprised about the lack of information sellers are willing to showcase on their listings. The item specifics in the listing mention the Cassette player, ABS, A/C and a driver and passenger airbag. Everything else is speculation or an email to the seller away.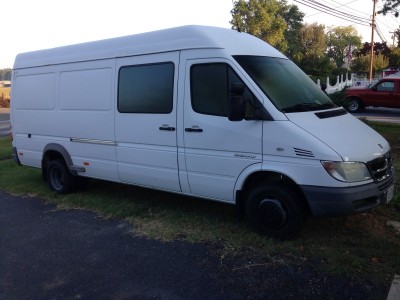 The car history check (VIN# is WD2PD544455743914) looks good. The Van spent all its life in Virginia. One question a potential buyer should ask is why the van wasn't driven that much in the last two years. The last mileage reported on the Vehicle history is 196,000 on 5/24/2013. That would mean that the owner drove just a little bit over 1,200 miles in two years.
The seller is asking $9500 but added the "Make Offer" option to the listing so there might be some room for negotiation.