Just popped up on eBay [Link to Auction
] today: A 2004 Dodge Sprinter 2500 in White with the 140″ wheelbase.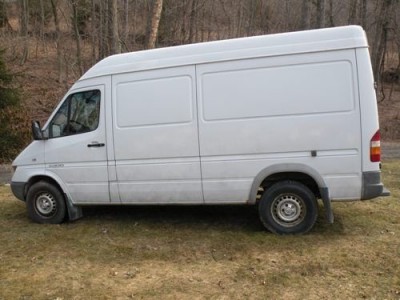 And it only has 88,170 miles! But you can see clearly some rust issues but the seller mentions the problems that Mercedes has with that model year and it looks like he tried to hold rust at bay every year:
The majority is surface rust which I remove,prime and paint every year.
It already had some work done, like a new torque converter, EGR valve, a new fuel pump and front struts including ball joints.
The Vehicle History (VIN: WD2PD644045644284) shows two owners and  one minor accident in 2005 ("rear impact with another vehicle"). Poor owner at that time the Sprinter was just one year old.
This Sprinter has some power options like Power Door locks, power windows and cruise control. Also Airbags for both the driver and the passenger. Both seats look good in the (too small) pictures.
The Van is listed as an Auction (currently no bids with a starting price of $9,900) and a Buy It Now price of $11,400. The seller doesn't want to ship the Van so the new buyer needs to pick it up – which definitely limits the competition. Good luck Pennsylvania buyers!