This is what looks like a nice Dodge Sprinter 2500 from 2003 [eBay Listing
]. Unfortunately this is also a sad example of a seller that doesn't seem to eager to sell his Van – or there's something serious wrong about it.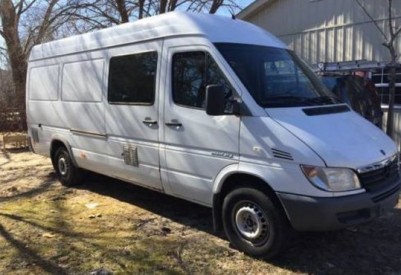 Unless you live near Hammonton in New Jersey, you'll never find out because there are basically no details and only two pictures from the outside of the Sprinter.
Here's the facts that we have: it's a 2003 model year with 159 thousand miles on the clock. It's a white Van and the VIN number is WD2YD742935513152. The price is $8500, which would make this a pretty good deal in my book.
I hope someone asks the seller for more pictures and details. Or a lucky person just takes the risk and might get a very good deal. Keep in mind that purchases on eBay motors are not binding and if you don't like the van when you inspect it in person you can just back off and the seller needs to return the deposit to you.