The Online Auto Warehouse in Akron, OH just listed a silver 2005 Dodge Sprinter 2500 on Craigslist (Link to Ad). What was definitely a business van (The pictures show the installed toolbox in the cargo area) wasn't driven that much: only 121,621 miles in ten years. A nice feature are the rear cargo doors and the sliding door have windows which means you have plenty of light in the back when you want to and with curtains more privacy you would ever get with a Sprinter passenger van.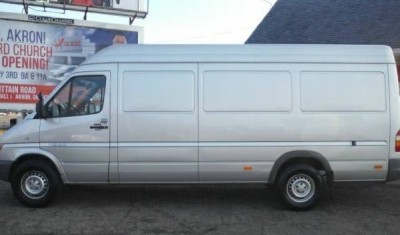 The Sprinter has the normal power options: power windows, keyless entry, power driver window and cruise control. It even has a trailer hitch. Overall the van looks to be in good shape – no major dings or rust can be seen on the pictures. However, being sold in Ohio I would ask for pictures from under the van – just to be sure that rust is not an issue.
What I really like is the 158″ wheelbase. In my opinion, that's the perfect size for a camper conversion. Long enough to fit in a queen size bed and still have plenty of room for additional rear seats and "living room" space but still easy enough to handle in city traffic.
The VIN number is not listed in the Craigslist Ad but you can find it on the dealers website: WD2PD744055751066. You can also find more pictures there. What I really like is that they didn't try to clean the engine. I just hate to see pictures of pressure washed engines. That always makes me think that the seller wants to hide something. Not here: The engine is a bit dusty but looks in decent shape.