Only just a bit shy over 106 thousand miles this Sprinter in Brooklyn is for sale in Brooklyn, NY [Craigslist Ad]. It's definitely a work van but not in the usual white but silver. Judging from the low mileage I wouldn't be surprised if this van mostly saw city driving in its life.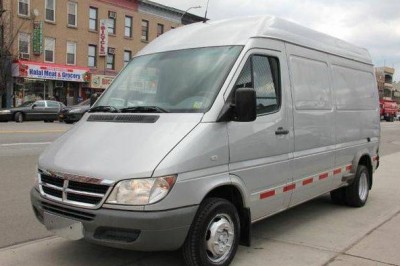 The outside is a bit dinged but nothing out of repair. Also the cargo area saw some action in the past but it has wood paneling so the metal should be ok. However, being from New York I would be cautious about rust. The seller didn't provide any detailed pictures from the underside of the Sprinter – be sure to ask for that if you plan to travel a longer distance to check out the van. For a quick check from the distance make sure to check the Carfax – the seller luckily provided the VIN number in the listing (WD2PD444555752728).
I personally think the dual tires in the back that you'll get with the 3500 model are overkill for a RV conversion – especially on the short 140″ wheelbase – but driving a Dually has it's upsides. They are more stable in windy conditions and you'll never have to stop because of a flat tire in the back 🙂 Also driving in rough terrain (mud, sand) works better with the added traction in the back.