Just listed on Craigslist [link]: a nice looking California Dodge Sprinter 2500 with the long 158″ wheelbase and a high top. A perfect candidate for a Camper conversion. As with most California Vans, rust shouldn't be an issue but be sure to check out the car history with the provided VIN (WD2PD744645672662) to make sure that the van didn't have a previous life in one of the rust belt states.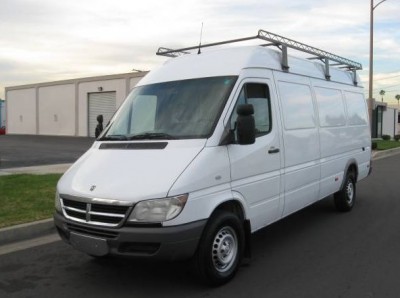 With just over 238k miles the van has still a lot of life left and it's reasonably priced with $9500. Not a steal but not totally out of the question either. The seats look in decent shape as well as the cargo area. The seller unfortunately didn't list the options – there are definitely manual windows from what I can see in the pictures, so I guess there are no other power options installed in this Sprinter.
A bonus is the installed roof rack: it's actually a nice one that isn't overkill and should provide a good base for your solar panels or a roof top box.