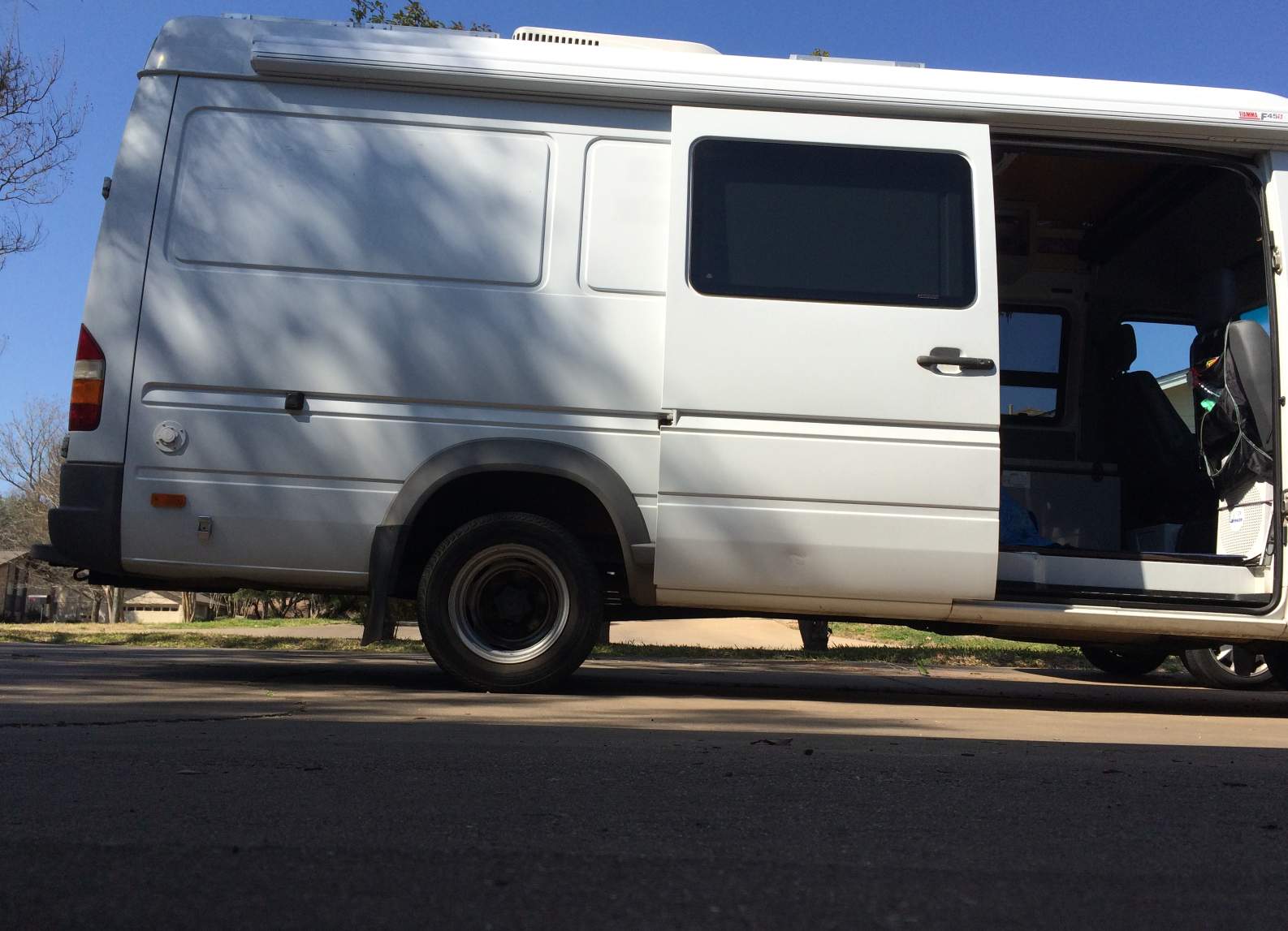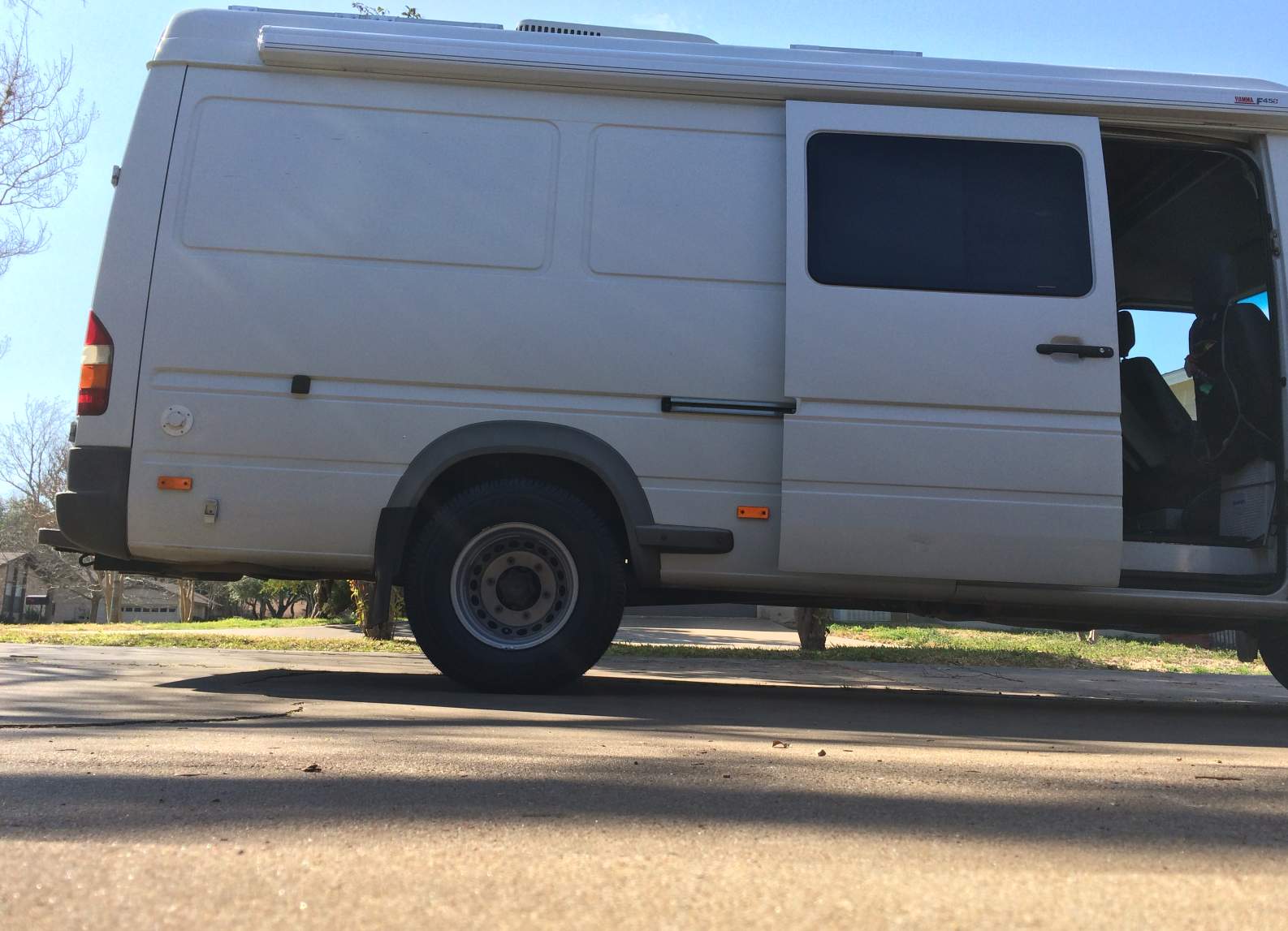 One thing that I never liked with the Sprinter 3500 were the tiny 15 inch factory wheels. I have no idea why they used these small wheels in these wheel arches that can house much bigger wheels. To fix this, there are basically two alternatives: stick with the original 15″ wheels and put some bigger tires on them or go with larger 16″ wheels from the newer generation Sprinters (2007+). If you go the first route with the original wheels, your choice of tires is limited – there's not even a large selection for the standard 195/70R15 tires.
So my choice was going with the larger wheels. Finding the wheels is no problem – there are plenty of companies that sell barely used wheels from RV conversions for about $50 a piece plus shipping (Eurocampers, for example). I got really lucky and found a seller on eBay

that accepted my offer of $40 per wheel, shipping included! The 16″ wheels have the same bolt pattern as the 15″ from the first generation Sprinters but you'll need new lug nuts. The Part Number for the nuts is  68013445AA (Dodge/Mopar Part Number) and you'll need 24 of them.
Going with the larger wheels has another upside: There's plenty of tires with the correct load rating to select from. I didn't go with the cheapest tire but opted for a house brand from NTB: Mesa A/P II LT215/85R16. I can't speak to the quality of the tire yet since I've only driven about 50 miles so far. First impression is better than the older tires but I'm going to update this post after the first longer road trip. and here's the results after driving the larger wheels for a while.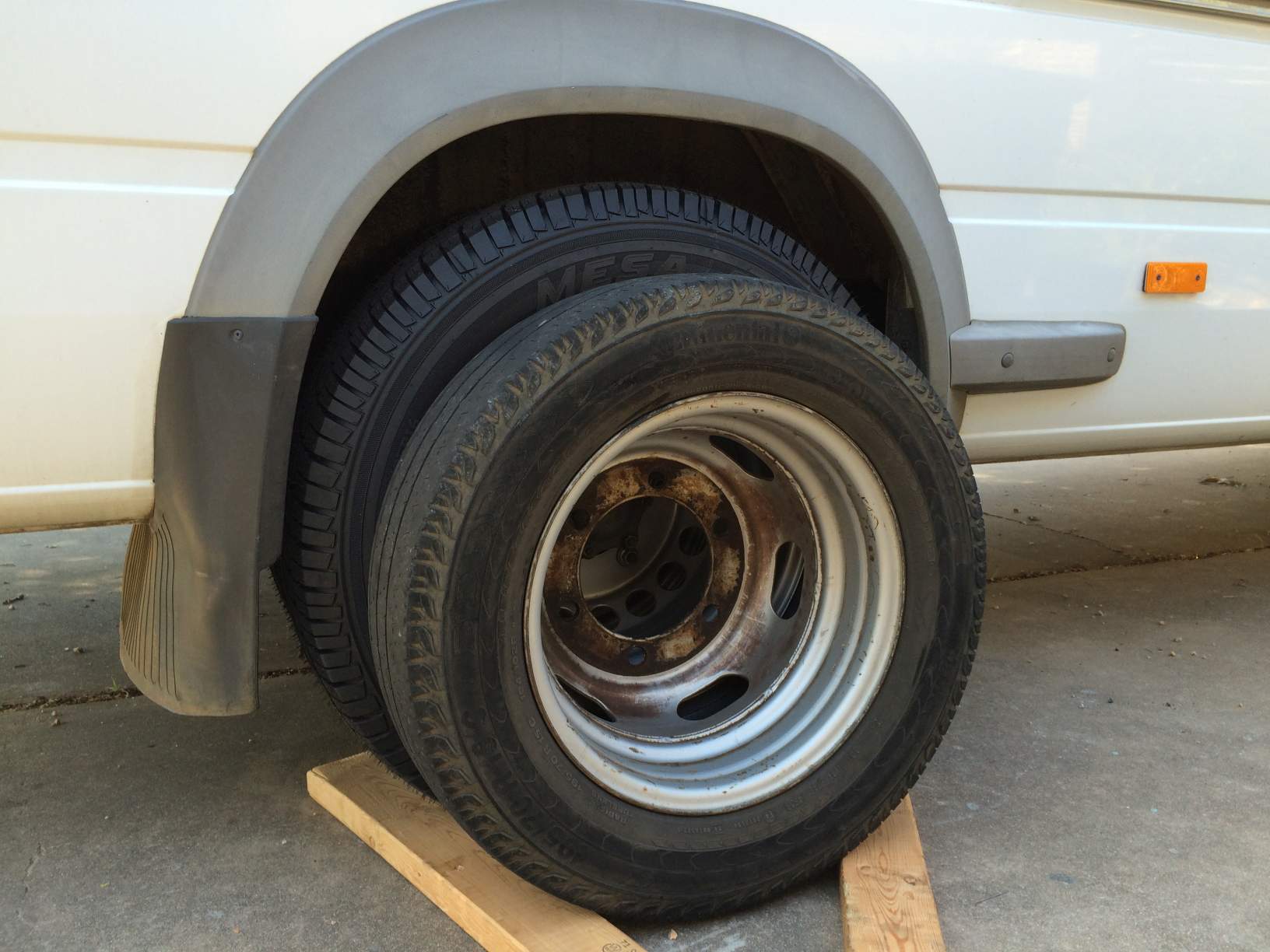 The new wheel/tire combination lifted the van about two inches and I had to cut a little bit from the front wheel splash guard to avoid having the front tires rubbing against it when turning.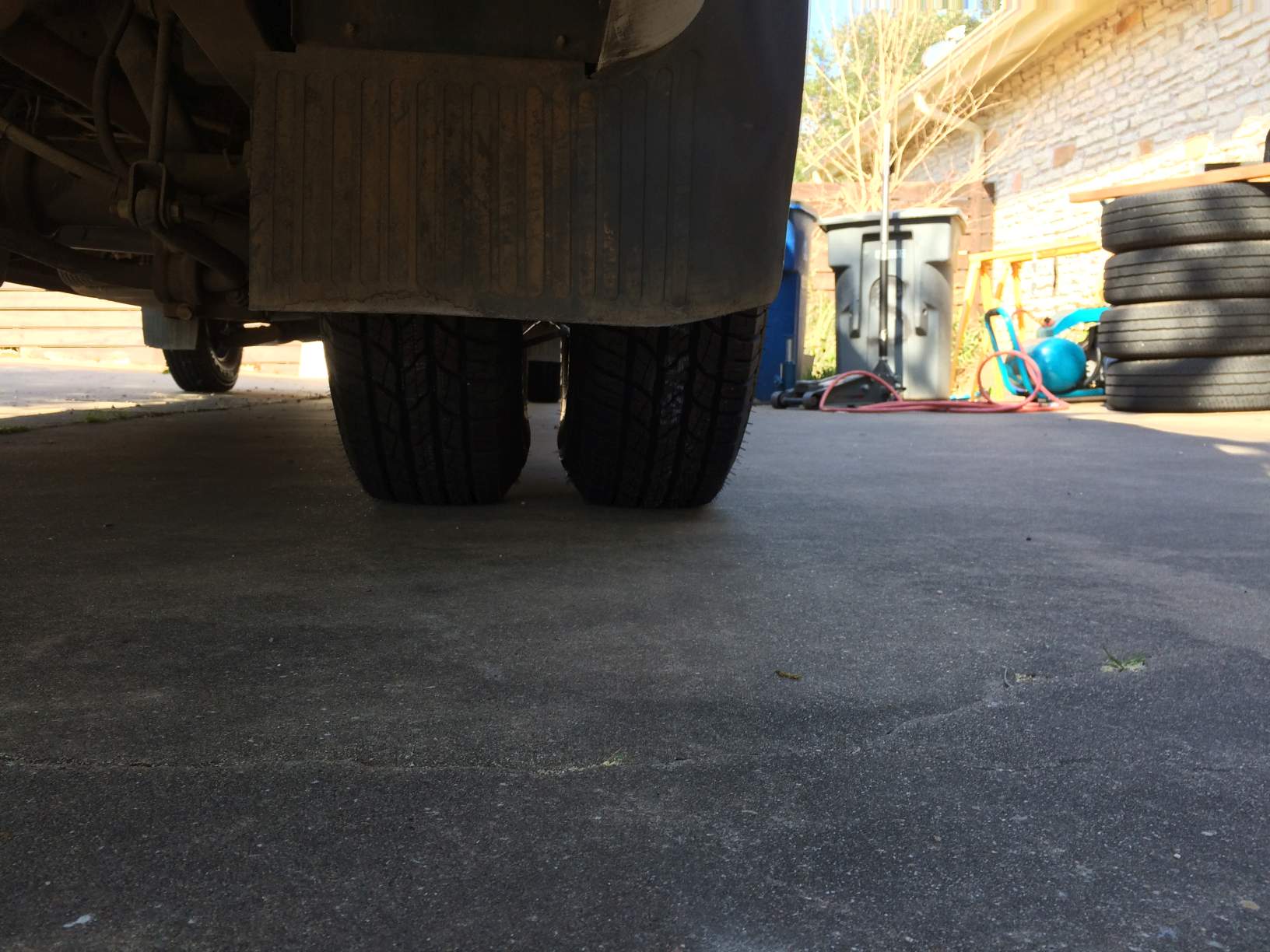 The picture above shows that there's more than enough space between the duallys in the back. You could also go with a bit smaller but wider tires and chose  LT225/75R16 tires.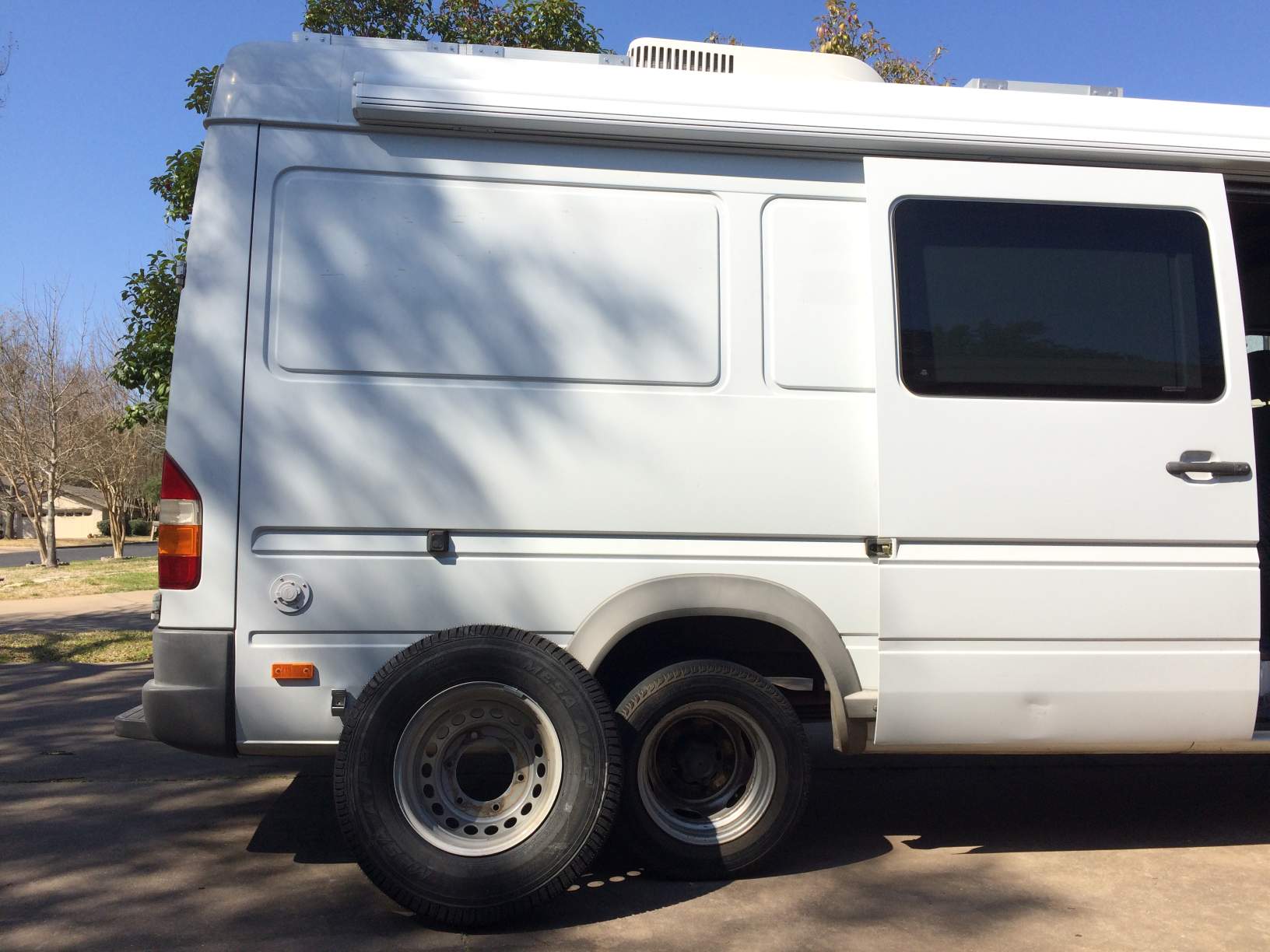 One negative of going with bigger tires is that your spare tire won't fit in original location anymore. I saw a post on Expeditionportal with a picture of a 215/85R16 in the stock location but since this was about a Sprinter 2500 I assume that the wheel carrier in the 3500's are probably smaller. If you could swap out the carriers from a 2500 to a 3500 this would solve the problem but I haven't looked into that. I'm going with a spare wheel carrier that is bolted to the rear door.
When researching tires I found a good amount of information and pictures how the new setup would look like but what I haven't found was a lot of side by side comparisons. I hope the pictures and especially the comparison slider on top of this post are helpful for someone to get an idea how your Sprinter would look like with bigger tires.
Affiliate disclosure: This site contains affiliate links to products. We may receive a commission for purchases made through these links.