The downside with using the cargo version of a Sprinter as a basis for your Camper conversion is that you need to insulate most of the van. Since they were intended to haul cargo Mercedes didn't bother putting any insulation in the back of your van. The cab where the driver sits is insulated and divided by the cargo area with a bulkhead divider – so in the original configuration Mercedes did what they needed to keep the driver warm (or cold).
Once you're done with your noise reduction (see the post about sound deadening) the next step is to add insulation to the ceiling and the walls to keep the heat out in summer or the cold in the winter. There are a few different approaches to achieve that – this post will describe each of them.
Spray Foam Insulation
Let's start with the most efficient method: Spray Foam Insulation. What works for a house should work for a van as well, right? This is true but using Spray Foam insulation in a van is a bit more tricky and also a lot more messy than the other methods.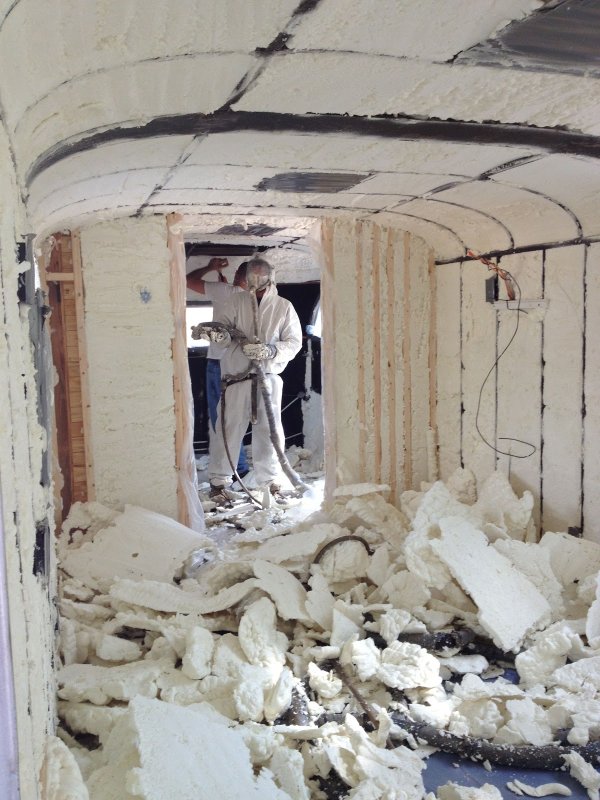 You can either buy single spray cans in your favorite home improvement store or have a professional do the work for you. Either way, make sure you understand how this foam works before you try this. Once you spray it on a surface it will expand – A LOT. It will also create heat in the process. You can cut off the excess after the foam has hardened but if you're not careful enough you'll end up with deformed sheet metal and visible bumps on the outside of your van.
No question that insulating your Sprinter with Spray Foam Insulation will do a good job but its also a lot of cleanup work. It's also permanent – you'll never get the spray foam removed. So if you decide to route some electrical wires before applying the foam you'll better be sure that they are working because getting them out after the fact is a lot of work.
I would highly recommend to use a professional company to do this but check if they did vans before.
Fiberglass Batt Insulation
Another approach taken from insulating homes: using Fiberglass Batt Insulation to keep a van insulated. You can get these for cheap at your home improvement store but I would highly recommend NOT using fiberglass batts in your van. Its a good insulation for sure but breathing in fiberglass particles is not good for your health and you'll never be able to seal the fiberglass from the inside like you can do in your house.
Cotton based insulation
An alternative to fiberglass is cotton based insulation. Instead of the unhealthy fiberglass the basis for those batts is recycled Jeans! You can order rolls of cotton insulation from your local home improvement store (UltraTouch Denim Insulation), for example.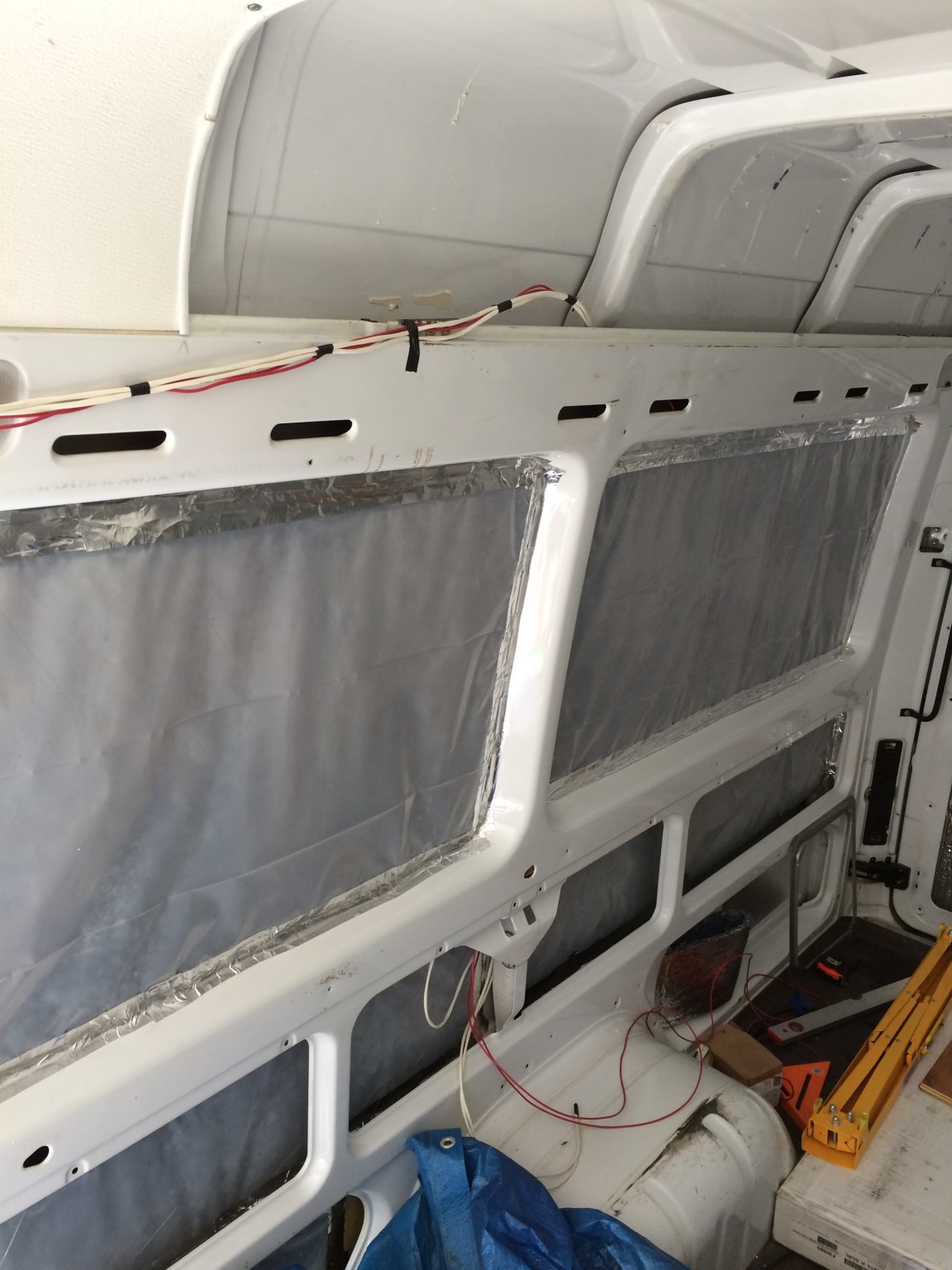 Installation is similar to regular fiberglass batts. You glue the the side with the aluminum foil directly to the panels of the Van. After that you should add a vapor barrier to avoid getting the cotton wet. Compared to other insulation materials cotton soaks up humidity and you don't want to grow mold over time. The R value of UltraTouch is 6.7 which is lower that the other solutions but it's good enough if you don't plan to camp out in subzero (or very hot) climates all the time. I've used this approach and I'm happy with it.
I've also used it to insulate the floor – in this case I've installed two layers of it (because I needed to raise the floor for the rear seat rails and I had enough left anyway).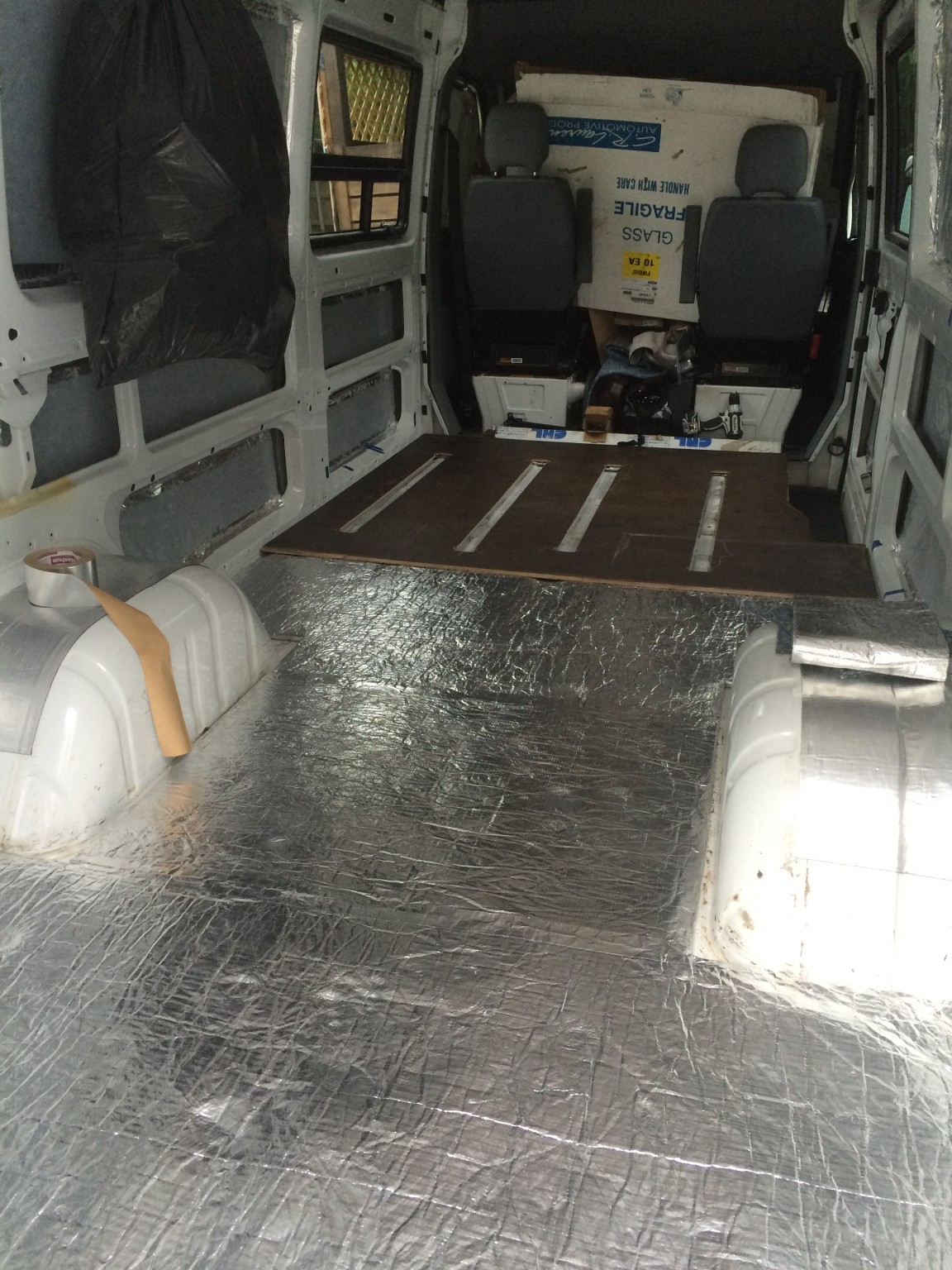 Polystyrene Rigid Foam Insulation
Another material that you can use to insulate your Sprinter Cargo Van are rigid foam sheets. They are always in stock at home improvement stores (e.g. Home Depot – Foamular) and come in either 1/2″ or 3/4″ thickness.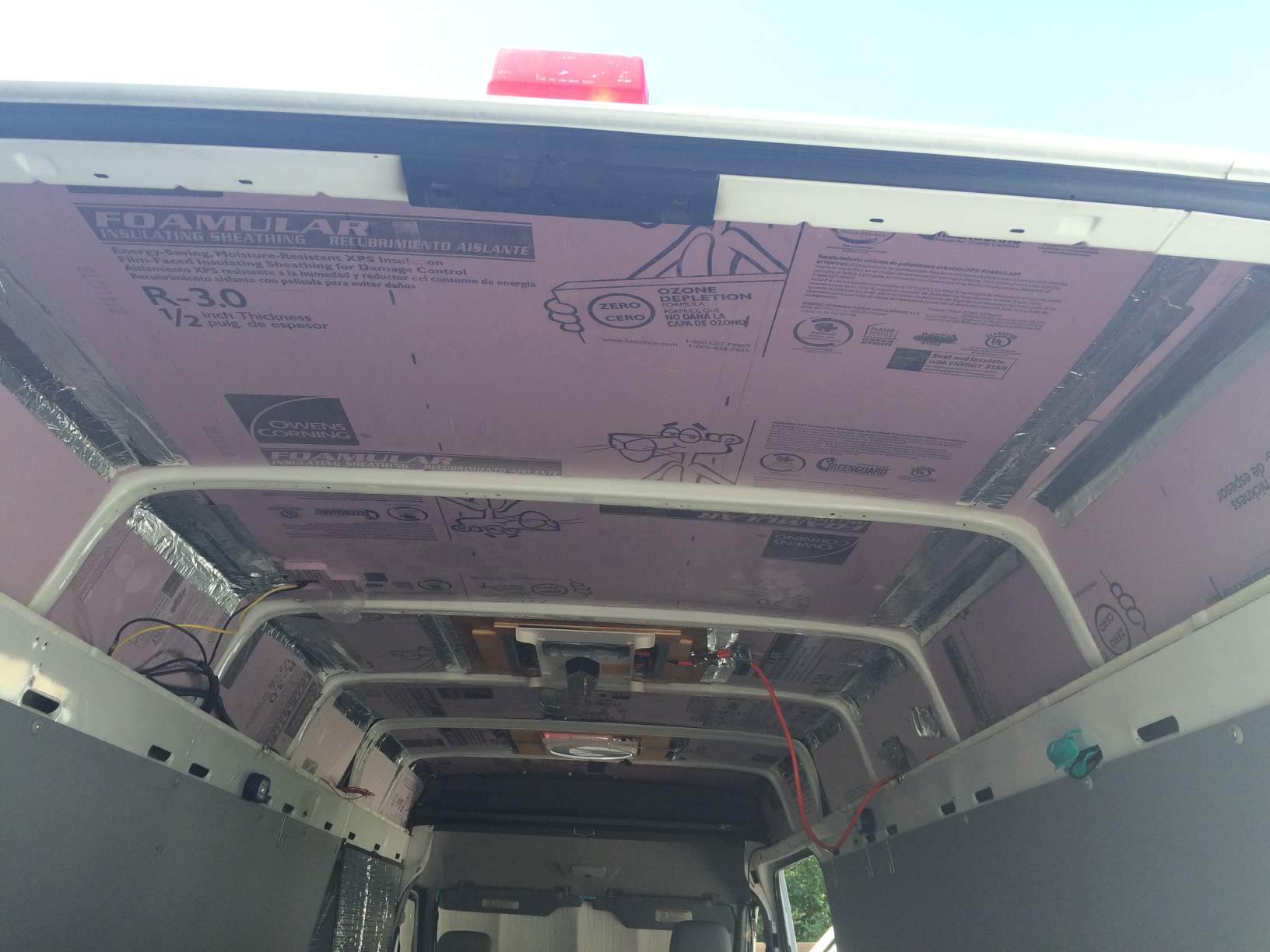 You can use the thicker one for the side panels and the thinner ones to insulate the ceiling. The R-Value is lower than the above mentioned materials (R3/R4) but in my Van they do a good job in reducing the heat from the ceiling.
Other Insulation material
I heard great things about a material called Thinsulate [@eBay]

. You probably seen it in the context of shoes and clothing but you can buy the same material on rolls. It seems to be a very good noise barrier and thermal insulation and the great benefit of using Thinsulate is that the material itself doesn't absorbe water – so you don't need to worry about mold when using this stuff.
Affiliate disclosure: This site contains affiliate links to products. We may receive a commission for purchases made through these links.
Summary
Technical Difficulty -

3/10

Time needed -

6/10