If the A/C in your Sprinter doesn't blow cold anymore an/or the compressor is noisy, the culprit might be the Expansion valve. This little device controls the amount of refrigerant that enters the Evaporator. Or in tech speak:
The expansion valve removes pressure from the liquid refrigerant to allow expansion or change of state from a liquid to a vapor in the evaporator. (Source)
If you have the tools to measure the pressure in your A/C lines you can figure out quickly if the Expansion valve is broken:
If the low side pressure of the A/C system is too high and the high side too low.
If the low side is too low and the high side pressure is too high.
The Expansion valve is located at the dash panel between the A/C refrigerant lines and the evaporator. Replacement of the Valve is quite easy although the access is a bit restricted by the windshield wiper mechanism.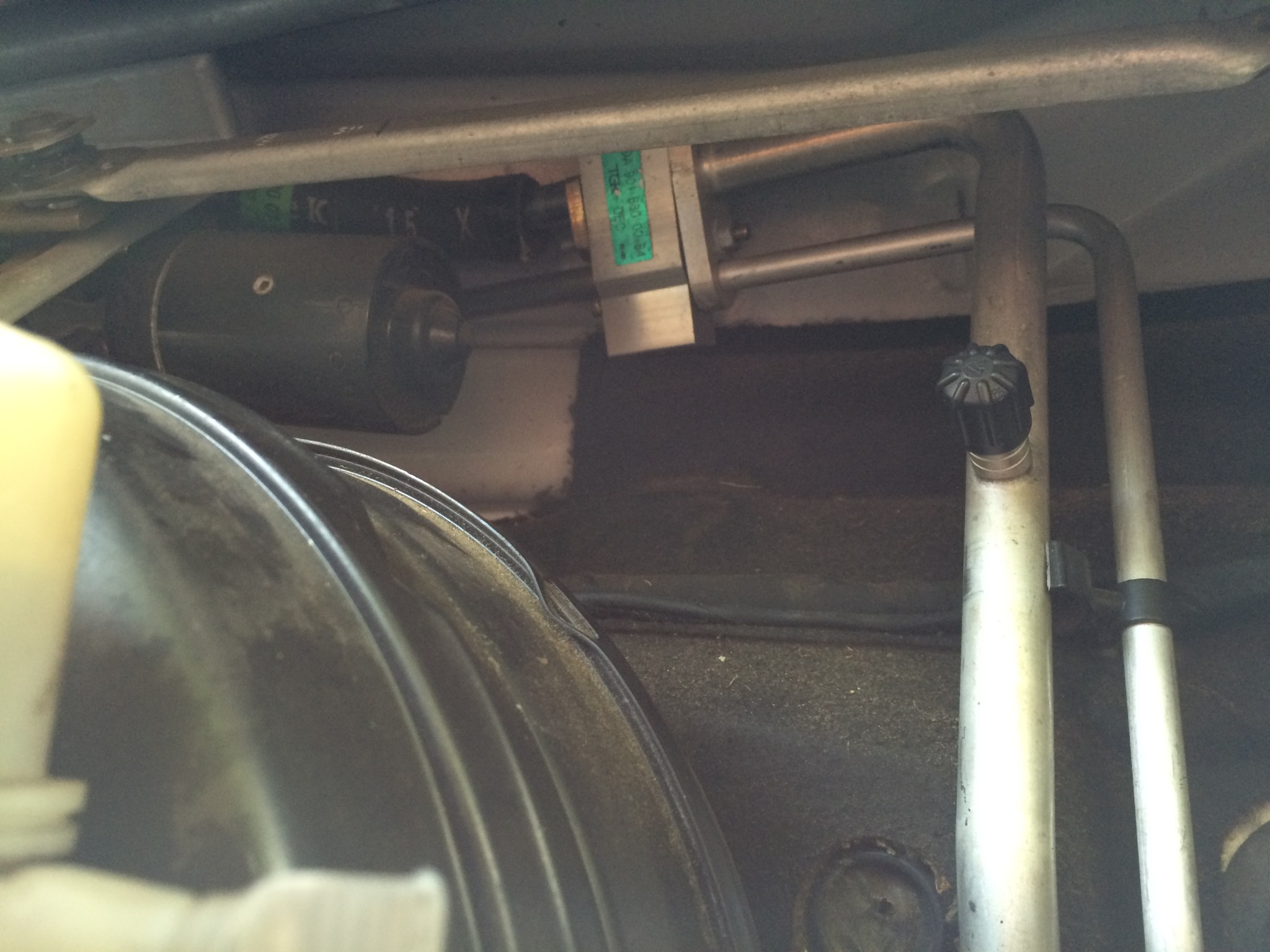 You'll need to start with the nut that holds the right hand side A/C lines in place (#6 in the picture below). This I've found was the most tricky part of the whole job since you can't get a wrench between the two A/C lines so the only option is a small Ratchet with an extension.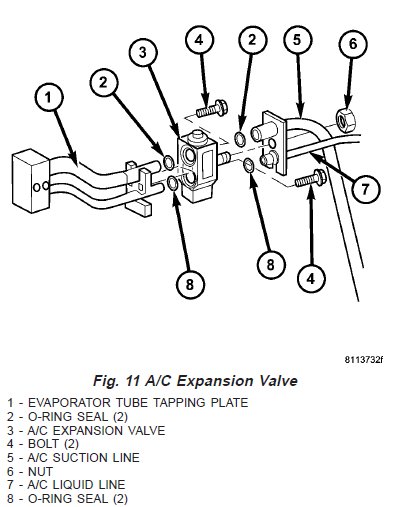 After you have pushed the A/C lines on the right a bit to the side you can start removing the two bolts (#4) that attach the left hand A/C lines. These bolts have Allen heads, so be careful not to strip them.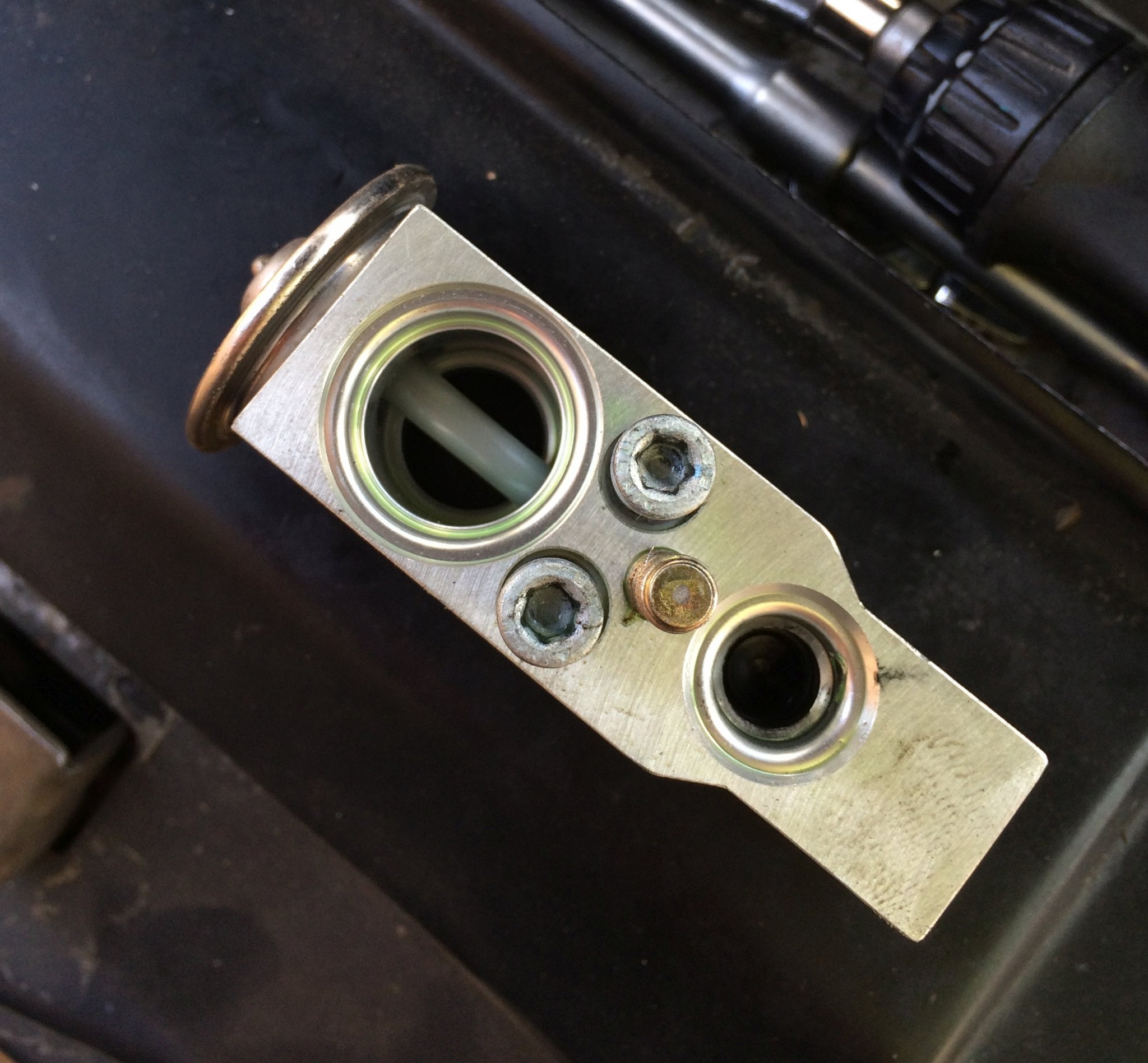 Now you can remove the Expansion Valve. To install the new one just follow the steps in reverse. The replacement part that I've got didn't have the bolt for the right hand A/C lines so I had to fabricate that myself by removing the head of a matching screw. You'll also need to replace the O-rings with new ones that should be lubricated with clean refrigerant oil before installing them.
Parts needed:
Sprinter A/C Evaporator. Part Number: A9018300084 or 05143304AA
Tools required:
Rachet with extension
Wrenches
Allen bit
Torque values:
Allen bolts: 5 Nm / 45 inch lbs
Nut: 10 Nm / 89 inch lbs
Summary
Technical Difficulty -

2/10

Time needed -

2/10