This van could be a good deal (CL Link): A 2005 Dodge Sprinter 2500 158 inch wheelbase with the high top and the seller is asking $5500.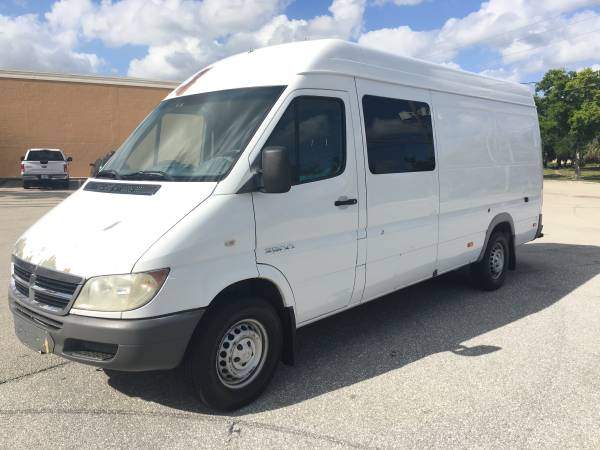 The front of the van shows the usual problems with peeling paint on Sprinters of that age (I had the hood and the top section on my van repainted a while ago). From the outside the van looks decent and straight with some rust issues on the sliding door. It also has already two windows behind the driver and passenger seat – very nice since you'll have more light in the back.
The interior in the front looks good: The seats and armrests are in great shape and also there's no visible damage to the dash.  The cargo area is in a very good state, it doesn't look like they used it to transport heavy stuff in there (also judging by the shelves in there.
There's no VIN number in the listing and the seller specified the mileage with "60" which could mean 60,000 but these two things you should ask when you call the seller. It just looks a little bit too good to be true especially since the seller listed this as a Gas engine which were never sold in the US – so use caution.