If you're not afraid of a very colorful paint job, this Sprinter van for sale in Tampa (Craigslist link) might be something for you.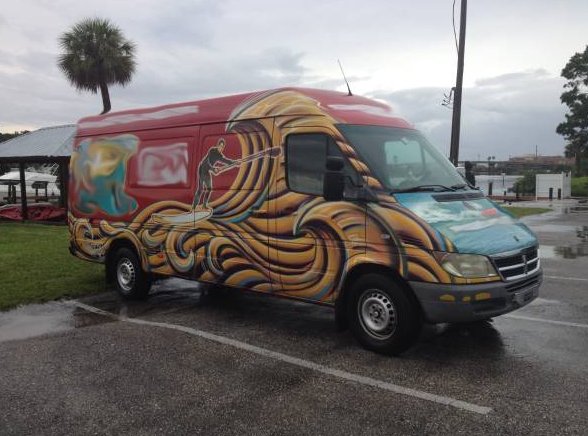 It's a 2005 Dodge Sprinter van in the long 158 inch wheelbase version with a high top – the perfect candidate for a camper conversion. The van has only 120,000 miles which is basically nothing for a Mercedes Diesel Engine.
The listing description mentions that the van spend a good amount of time close to salt water and seems to have some rust issues around the cargo doors and both the driver and passenger door.
The seller uploaded a few pictures that show the outside of the van but with this paint job and no close up pictures there's no way to figure out the amount of rust. The cab interior looks ok (manual windows!) but there are seat covers which could be either a sign of a lot of wear and tear or brand new looking seats (if they have been always covered).
As usual, if you're not local, check out the VIN number (WD0PD744955810205
) first, then give the seller a call and ask the right questions before checking out the van in person. For a regular cargo van the price seems ok but you might negotiate a bit down to offset the costs of a more neutral paint job.